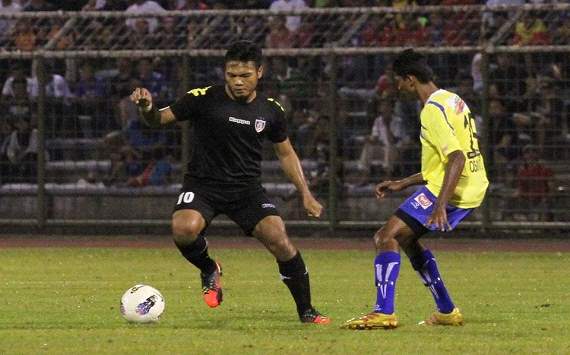 Former Pelita Jaya striker Safee Sali started his first game for new club Johor Darul Takzim as they ran out 5-1 victors against Singapore club Woodlands Wellington in a pre-season tournament on Wednesday.
The Malaysian international formed a telepathic partnership with former Spain striker Dani Guiza in front of a packed stadium in Larkin, Johor Bahru. Guiza grabbed the opener before setting up the second for Safee and the latter then scored his team's third of the night with a scorcher from forty yards out.
Safee expressed his belief that the team still need more time to familiarize themselves with each other.
"This is a good start for me, Guiza and the team. But we still need to work hard and foster a closer understanding between us and the other players. All of us here are still looking to adapt to one another and I am thankful that we did well in the game." Safee explained.
"The field is also a factor for us playing well. I am hopeful that the condition of the field will enable us to put on a good performance during the league season."
In a squad full of talented players, such as former Kelantan FA and Malaysia striker Norshahrul Idlan Talaha, as well as several other young attacking players in the squad, Safee conceded that he might find himself on the bench at times during the league campaign.
But the 28-year-old claimed that he would not react negatively if that happened, and insisted that he would still strive to be the best.
"Being on the bench is not a problem for me or any players if it is for the good of the team; we will take it in our stride. All the players here have the ability to play in the starting eleven as even the substitutes are of decent quality too," Safee said.
'Whether I start a game or not, I will still continue to train hard and improve on my performance and do the best for Johor Darul Takzim."