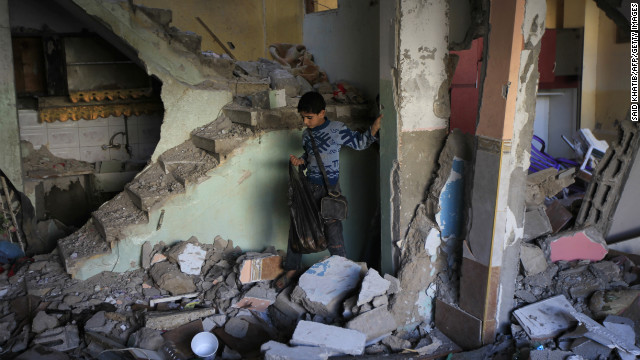 A Palestinian boy walks through the rubble of Hamas commander's house Tuesday in the southern Gaza town of Rafa. An overnight Israeli airstrike targeted the home.
The longstanding conflict between Israel and the Palestinian group Hamas reignited last week after Israel launched airstrikes against what it called terrorist targets in Gaza.
Israel explained that the offensive, which it calls "Operation Pillar of Defense," was necessitated by increasing rocket attacks from the Hamas-controlled territory.
Are you there? Share photos, video but stay safe.
Among those killed in the Israeli airstrikes Wednesday was Ahmed al-Ja'abari, the chief of Hamas' military wing. Weapons depots and rocket-launching sites were also targeted.
"Hamas and the other terrorist organizations in Gaza have made normal life impossible for over 1 million Israelis," Israeli Prime Minister Benjamin Netanyahu said in a statement. "No government would tolerate a situation where nearly a fifth of its people live under a constant barrage of rockets and missile fire."
Palestinian leaders condemned the attacks and said it is just another example of Israel's aggression toward Gaza. Since Hamas took control of Gaza in 2007, Israel has imposed a crippling economic embargo on the territory because it views Hamas as a terrorist organization bent on destroying the state of Israel.