Near the Israel-Gaza border
- Egypt said Tuesday that Israel plans to halt its military action in Gaza within hours.
"The travesty of the Israel aggression on Gaza will end in a few hours," Egyptian President Mohammed Morsy said.
Israel did not immediately confirm any plans to halt.
Egypt has been working to negotiate a cease-fire between Israel and Hamas, but Morsy did not provide details on his statement.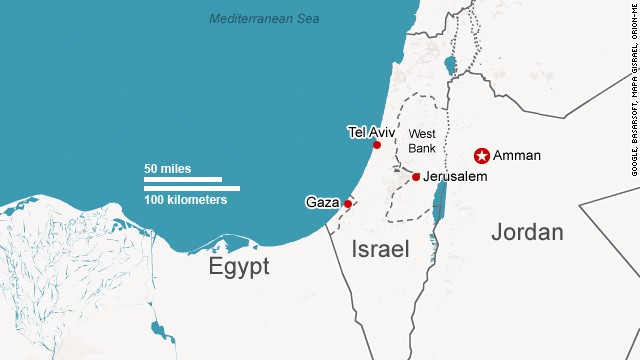 Map: Israel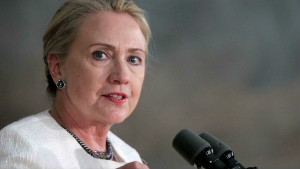 Clinton to Middle East to quell violence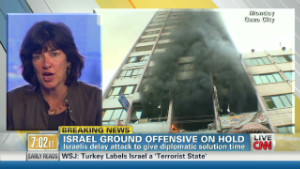 Israel ground offensive on hold
An Israeli official said earlier that Israel was holding off on a ground offensive to give diplomatic efforts time.
While Israeli troops are ready near the Gaza border, Israel has decided "to give time -- limited time -- for a diplomatic solution" before potentially launching a ground offensive, an Israeli official close to the negotiations said. "That solution must result in no more Hamas rockets fired on Israel."
U.S. Secretary of State Hillary Clinton is on her way to the region, in its seventh day of a deadly conflict punctuated by huge explosions that have triggered fear on both sides.
The exchange of attacks showed Tuesday there was no immediate sign of a cease-fire.
Eleven Hamas rockets came flying into the Israeli city of Beer Sheva, causing casualties, CNN's Wolf Blitzer reported from the city. More than 30 rockets were fired into the area Tuesday, but most were destroyed by Israel's Iron Dome interceptors.
Sirens sounded in Jerusalem after a rocket was fired in that direction from Gaza, but no casualties were reported.
"The rocket fired toward Jerusalem missed the city but hit an open area in a Palestinian village," the Israel Defense Forces said on Twitter.
Jerusalem Mayor Nir Barkat said U.N. Secretary-General Ban Ki-moon was among those who had to take cover. Ban is in Jerusalem pushing for an end to the violence.
In Tel Aviv, a man with an ax attacked a U.S. Embassy security guard, Israeli police said. The attacker, who also had a knife, was arrested, police spokesman Micky Rosenfeld said.
Meanwhile, a strike by Israel "targeted two terrorists in the northern Gaza Strip," and a "direct hit was confirmed," the IDF said. Israeli military forces also "targeted a terrorist squad in Gaza that was preparing to fire rockets at Israel," the IDF added.
A leader of Hamas' military wing, the al Qassam Brigades, warned the "Zionist enemy would pay high price for his crimes in Gaza."
Many people CNN has spoken to in Gaza said they want the violence to stop.
Clinton plans stops in Israel, Ramallah in the West Bank and Egypt. The United States, like Israel and many other nations, considers Hamas a terrorist organization and does not meet or negotiate with the group, which controls the government in Gaza. The Palestinian faction Fatah controls the West Bank.
Clinton will "meet with regional leaders, beginning with our Israeli partners, to consult on the situation in Gaza," said Ben Rhodes, deputy national security director.
He said the visits will support the "de-escalation of the violence and a durable outcome that ends the rocket attacks on Israeli cities and restores broader calm in the region."
Ban is set to meet with Israeli Prime Minister Benjamin Netanyahu and Palestinian Authority President Mahmoud Abbas.
An Arab League delegation, meanwhile, arrived in Gaza from Egypt to visit some stricken areas.
Throughout Tuesday, a fresh barrage of airstrikes pummeled Gaza.
The Israel Defense Forces said it targeted 100 sites overnight, "including underground rocket launchers, terror tunnels and ammunition storage facilities." The IDF said the "terror tunnels" were used as hideouts by Hamas operatives.
Israel has sent at least 1,350 airstrikes to Gaza, the IDF said.
The Gaza Ministry of Health said five people were killed Tuesday morning, including a child in northern Gaza. The ministry said 114 Palestinians have been killed and more than 900 injured since the latest hostilities erupted seven days ago.
Officials have not said how many militants were killed.
Three Israelis have been killed and at least 68 have been injured, Israeli officials said. The injuries include soldiers.
"The mere fact that Hamas shoots a rocket at Jerusalem -- it says more about them that it does about anything else," Israeli spokesman Mark Regev told CNN Tuesday after the sirens had stopped sounding in the city. He pointed out that Jerusalem has Jewish neighborhoods, Arab neighborhoods and other communities.
"No government on this planet would sit by idly and see its civilian population targeted the way the Israeli population has been targeted," he said.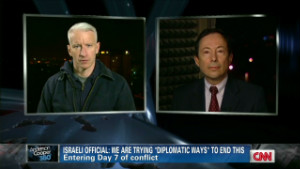 Israel: 'Firing of rockets needs to stop'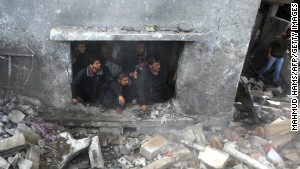 Hamas: Truce under 'specific conditions'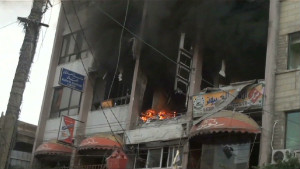 Rockets slam into Gaza building
Iran is arming Hamas with rockets, he said,
echoing remarks by
Israeli President Shimon Peres on CNN.
Concerns about a ground war heightened when Michael Oren, Israel's ambassador to the United States, said Israel had finished its planning for a ground invasion of Gaza.
If Israeli troops do invade, Hamas leader Khaled Meshaal said, it would "not be a picnic."
"We do not want escalation, nor do we call for a ground war," he said Monday. "But we are not afraid of it, nor will we back down."
According to a senior Hamas official involved in the talks brokered by Egypt, Israel has agreed to abide by some of Hamas' conditions -- but not all at once.
The Hamas official said Israel would end air assaults and gradually ease Israel's blockade of four crossings into Gaza, as long as Hamas stops firing rockets toward Israel.
But Hamas officials rejected Israel's response, saying they wanted a full agreement to their conditions and the opening of all four crossings at the same time.
Israeli foreign ministry spokesman Yigal Palmor said late Monday that "negotiations are going on," but he didn't offer any details.
Gaza has endured a crippling economic embargo since Hamas won control of the territory from the Fatah-led Palestinian Authority after a landslide 2007 election that was followed by intra-Palestinian clashes.
Many Arab and Muslim nations view Hamas as the victim of Israeli aggression.
Diplomats hope to avoid a repeat of 2008, when at least 1,400 people died when Israeli troops invaded Gaza after a similar spate of rocket attacks.