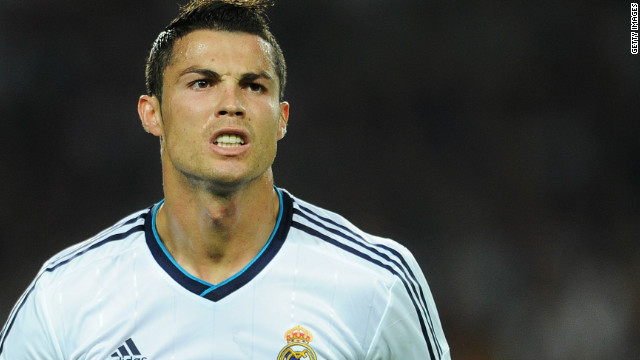 Cristiano Ronaldo believes his "arrogant" image has prevented him from capturing the hearts of football fans across the globe.
In an exclusive interview with CNN, the Real Madrid forward reveals how his onfield demeanor has left him sitting in the shadow of the sport's golden boy and fans' favorite, Lionel Messi.
"I don't want to cry about it, but sometimes I think yes," said Ronaldo after being asked whether his image had cost him in the past.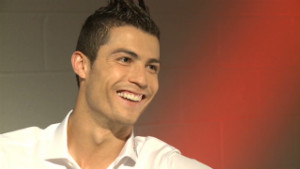 Cristiano Ronaldo: I'm better than Messi
Ronaldo: Winning title career high point
"It's a question to which I never give the 100% right answer, because sometimes I really don't know.
"I don't think it's allowed for people to change my personality.
"Maybe sometimes, I agree that I have a bad image on the pitch because I'm too serious."
Ronaldo and Messi will go head-to-head for the prestigious Ballon d'Or in January, with the Barcelona star having won the award on each of the previous three occasions.
Both men have taken the sport to a new level with their record goalscoring feats -- Ronaldo has scored an astonishing 164 times in 160 appearances for the Spanish champions, while Messi hit 50 in La Liga alone last term.
Ronaldo, who won the Ballon d'Or in 2008 when at Manchester United, led Madrid to the league title last season and has scored in his past six successive El Clasicos.
The 27-year-old Portugal star is unhappy with how he's often portrayed in the media compared to more "loveable" Messi and says he has become a "victim."
"But if you really know me, if you are my friend and I leave you inside my house and you share the day with me, you will know I hate to lose," he said.
"I learn by my mistakes and that's life. You know, sometimes I'm a victim of that because they don't know the real Cristiano.
"But, this is part of the life. This is me."
While Messi often plays with a smile on his face like a kid in the schoolyard, Ronaldo is often seen moaning, gesticulating and scowling while trying to inspire Real to victory.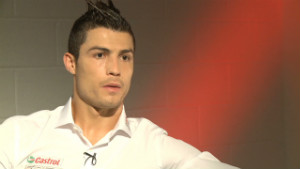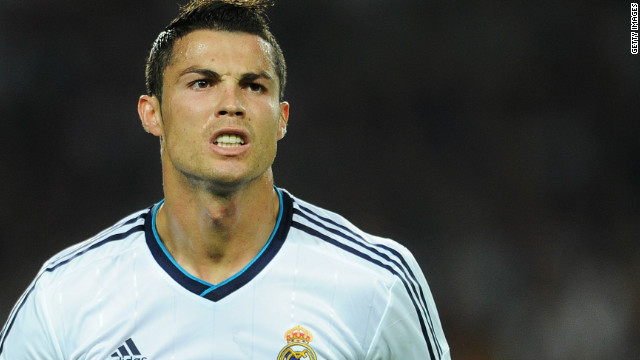 "In Real Madrid we are always under pressure," Cristiano Ronaldo told CNN. "This is maybe the best club in the world... so we have a lot of pressure and we know that the fans, the Madrid city... everyone wants 'La Decima' (a 10th European Cup). "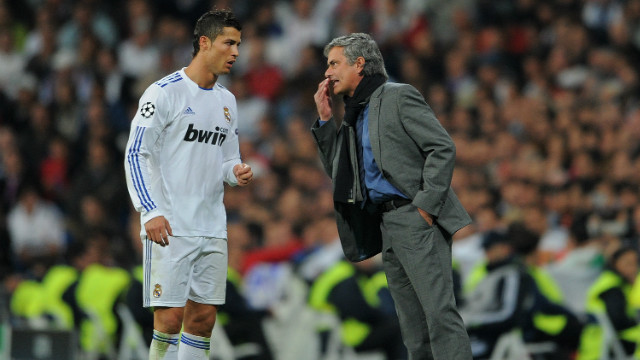 Ronaldo has nothing but praise for Real coach Jose Mourinho: "Well, my relationship with him is perfect. I don't ask for nothing better. In terms of coaching I'm sure 100%... 200% that he is the best. He shows every country who's the best because he wins all the leagues."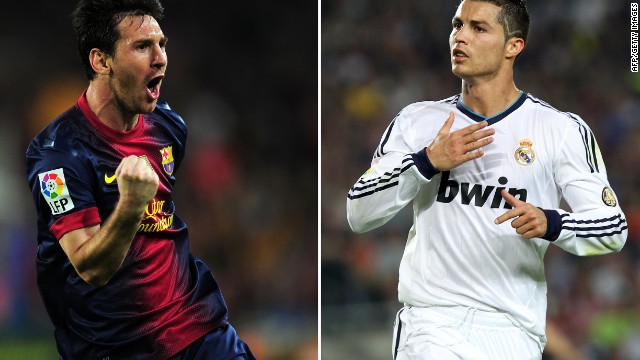 Ronaldo will be up against Barcelona's Lionel Messi for the Ballon d'Or with the Argentine having won the prize on each of the past three occasions. Both men were on target twice during the last El Clasico clash which finished 2-2 at the Camp Nou.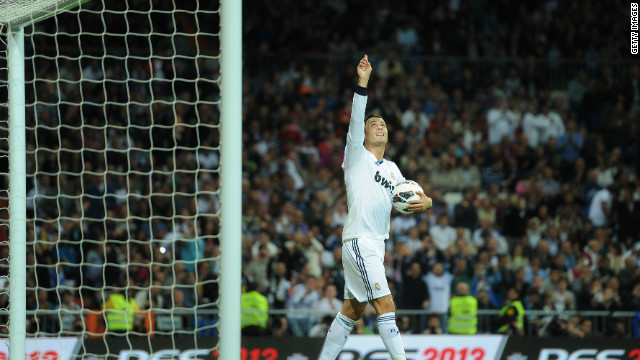 Ronaldo has scored 160 goals in 164 appearances for Real Madrid since his move from Manchester United in 2009. His determination to win is always evident, even when it comes to beating his girlfriend at swimming in their own pool. He said: "Sometimes you have to give her an opportunity to be happy, but I win because I don't like to lose."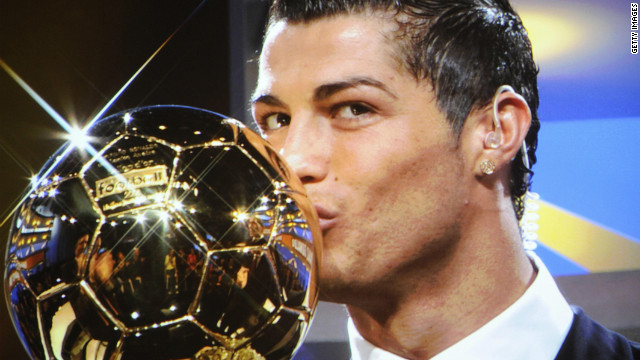 Ronaldo last won the Ballon d'Or in 2008 after helping lead Manchester United to the Champions League crown with victory over Chelsea in Moscow. In the 2007-8 season, he scored 42 goals as United also won the English Premier League title.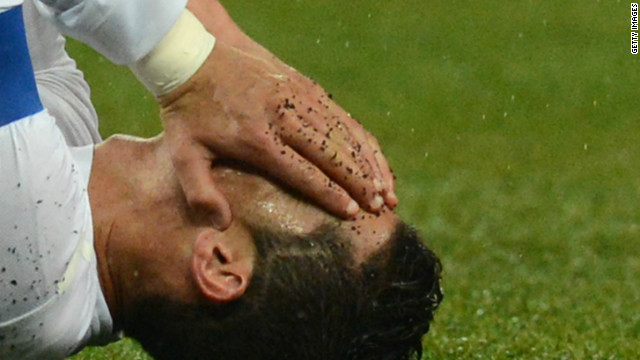 While Ronaldo has enjoyed great club success with Manchester United and Real Madrid, he has yet to win a major tournament with Portugal. I'm not saying Portugal doesn't have the capacity to win the World Cup or Euro, but its more tough... its difficult, because you don't have 100 players to choose."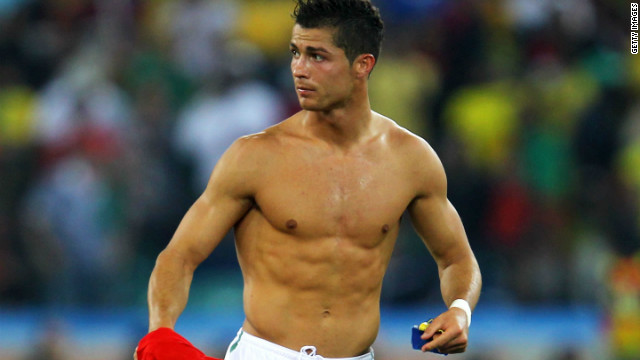 Ronaldo insists he'd relish the opportunity to talk to his critics and listen to their opinions on why they believe he is arrogant. He told CNN: "People who call me arrogant, I'm interested, not with all of them, but most of them. One day I would like to sit with them and have a chat to see in which way they think I'm arrogant."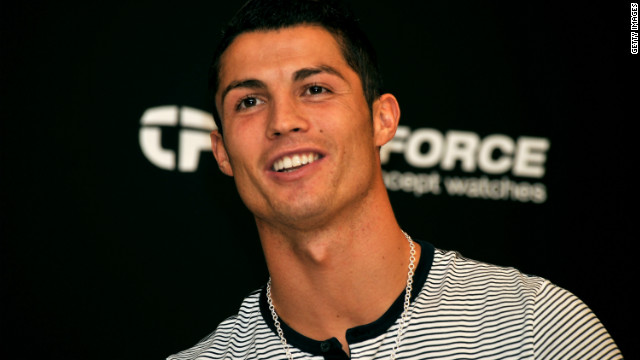 When he finishes his football career, Ronaldo wants to become an actor.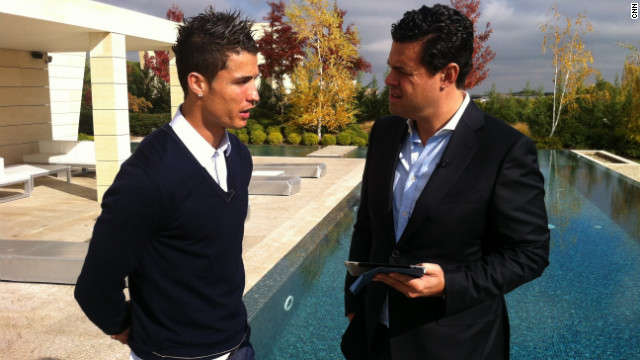 Ronaldo tells CNN's Pedro Pinto in an exclusive interview that he believes his perceived 'arrogance' has made him less popular than his chief rival Lionel Messi. "You know, sometimes I'm a victim of that because they don't know the real Cristiano," said the Real Madrid forward.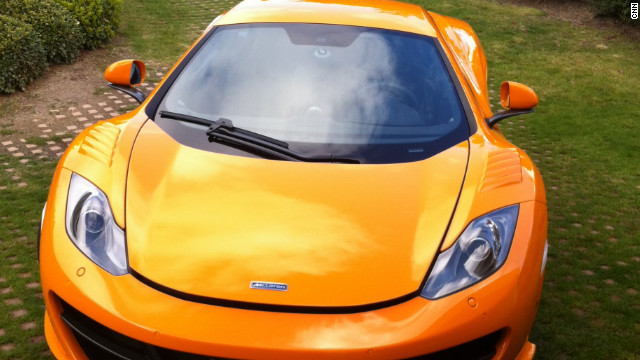 Cars are one of Ronaldo's great passions. In 2009, while at Manchester United, Ronaldo was lucky to esacpe injury after crashing his Ferrari.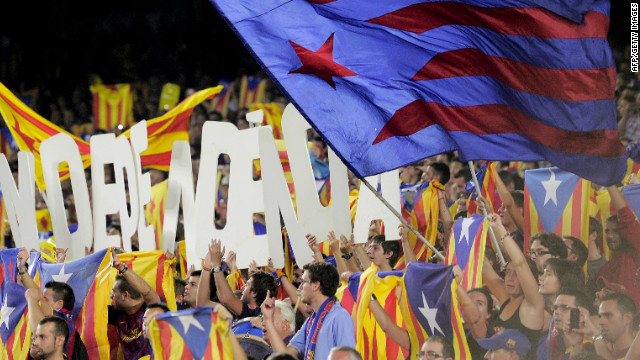 Barcelona fans hold letters forming the word 'Independencia' and wave Catalan 'Estelada' independence flags in the match against Real Madrid.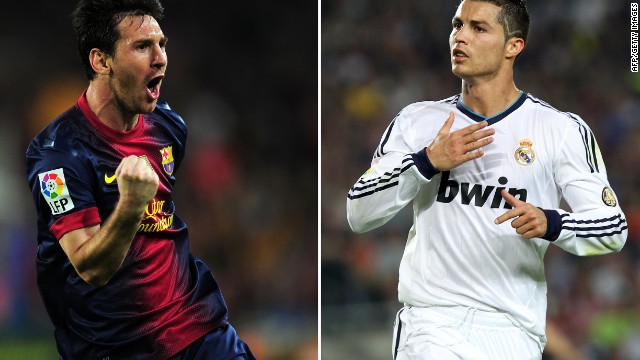 Lionel Messi (left) and Cristiano Ronaldo celebrate goals in the El Clasico clash in the Camp Nou.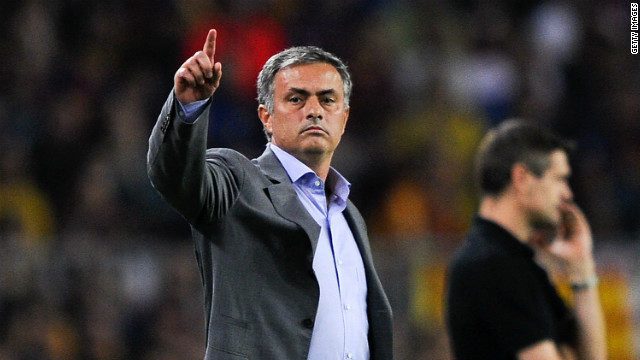 Jose Mourinho gestures during the El Clasico clash with his Barcelona counterpart Tito Vilanova in the background.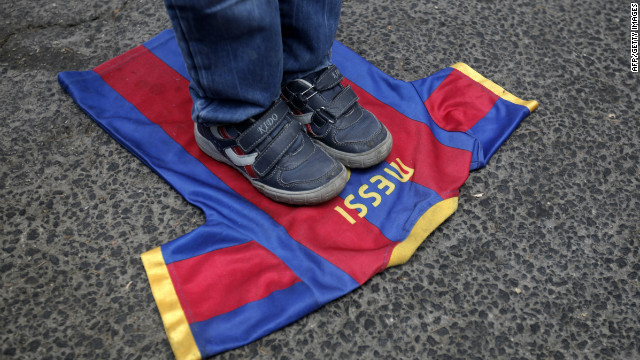 Barcelona's decision to invite a former captured Israeli soldier Gilad Shalit to the El Clasico clash was met with protests in Palestine.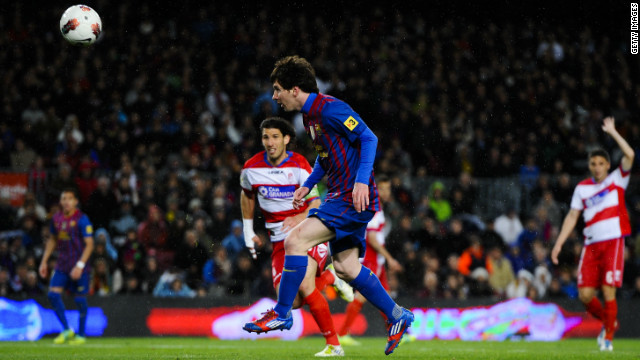 Lionel Messi's hat-trick against Granada took his tally for Barcelona to 234 and past the club's previous highest scorer, Cesar Rodriguez, who notched 232. The 24-year-old secured the record with this cheeky chip.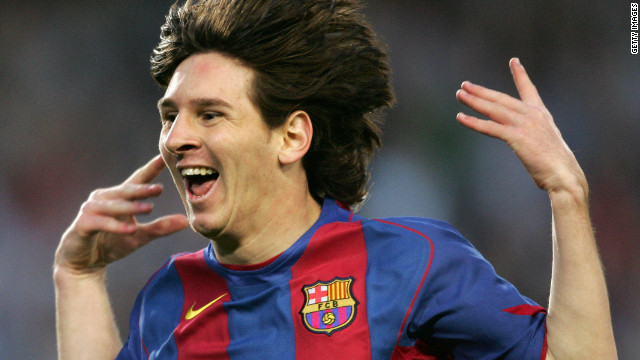 Messi's first goal for Barca came in May 2005 against Albacete, a strike which made him the youngest goalscorer in the club's history. The record was later broken by Spain's Bojan Krkic, who is now with Italian Serie A side Roma.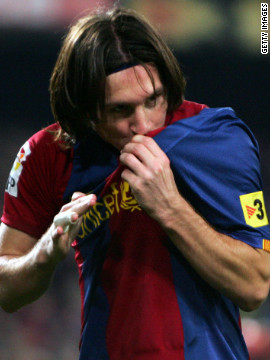 The Argentine cemented his position in Barca folklore in March 2007 when he scored a hat-trick against archrivals Real Madrid in a 3-3 draw. He was the first player to score a treble in the "El Clasico" fixture since Chile's Ivan Zamarano in the 1994-95 season.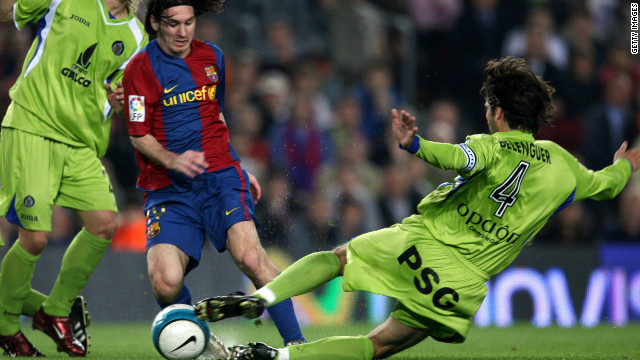 Comparisons between Messi and his legendary compatriot Diego Maradona were becoming more and more frequent. Messi made them unavoidable by scoring a goal against Getafe in a Copa del Rey semifinal which bore a startling resemblence to Maradona's famous strike against England at the 1986 World Cup.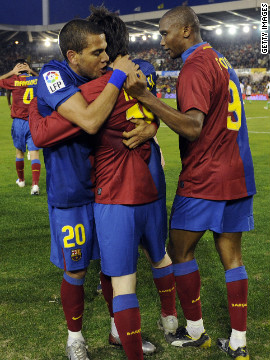 In February 2009, Messi came off the bench to score twice as Barca rallied from behind to beat Racing Santander 2-1. His second goal was Barca's 5000th in league competition.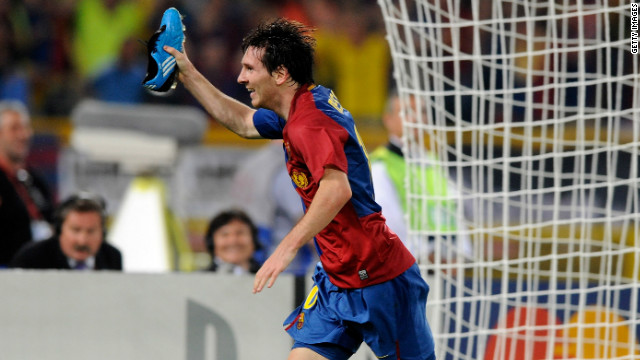 Messi headed the second goal as Barca comprehensively outplayed Manchester United in the 2009 European Champions League final, registering a 2-0 win in Rome.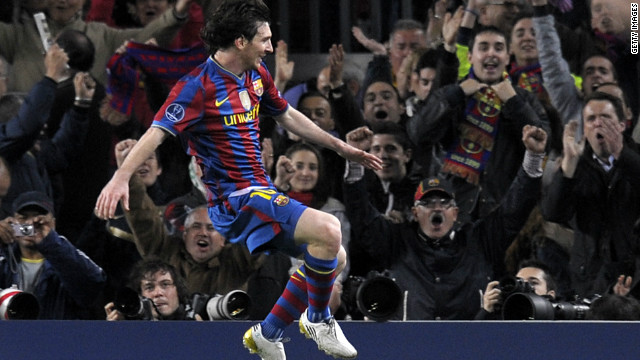 He scored four goals in a match for the first time in his career when Barca beat Arsenal 4-1 in the second leg of their Champions League last eight match in April 2010.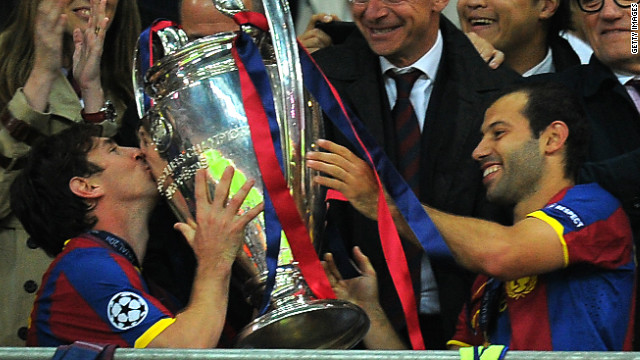 Messi haunted Manchester United in a Champions League final for the second time in 2011 when he scored the second goal as Barca beat the English Champions 3-1 at Wembley. It was Barca's third European triumph in six years.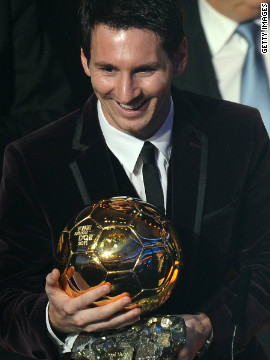 In January, Messi was crowned the FIFA Ballon d'Or winner for the third time in his career having also won the award for the world's best player in 2010 and 2011. No-one has ever won it four times.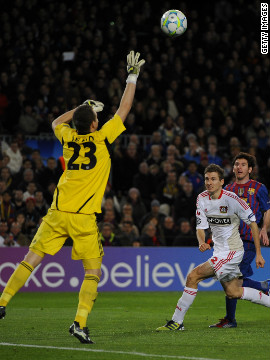 He made Champions League history earlier in March by becoming the first player to score five goals in a single match during Barca's 7-1 demolition of German side Bayer Leverkusen.
But he insists that his competitive nature should not be mistaken for arrogance.
"I was in the swimming pool with my girlfriend and sometimes we like to have a race," he said.
"Sometimes you have to give her an opportunity to be happy but I win because I don't like to lose.
"It's simple like that. Can you imagine me on the pitch playing against players, playing against other teams, it's not allowed to let them win.
"I'm a competitive man and sometimes people interpret that in a different way, which is a pain on me because I don't like it, but I have to live."
While many sports stars are keen to stay clear of their critics, Ronaldo is keen to embrace his and attempt to transform their opinions in the future.
"People who call me arrogant, I'm interested -- not with all of them, but most of them," he added.
"One day I would like to sit with them and have a chat to see in which way they think I'm arrogant.
"You know, to have a chat, in a nice place and for them to get to know me, you understand?
"Because I think they need to sit with me to know who the real Cristiano is."