When Rafa Benitez went to bed on Saturday night, he had a lot on his mind. Milan might change their formation. There was a distinct possibility that they'd play with three strikers instead of two, with a playmaker in behind. "Honestly, I don't know [what they'll do]," he said.
Before deciding how Napoli would set up, Benitez revealed he'd sleep on it and
hablar con la almohada
. "Who speaks Spanish here?" he asked at his prematch press conference. "What's
almohada
in Italian?" It's
cuscino
-- pillow.
Benitez would talk with his pillow. It's remarkable what comes to you when you're asleep. "The pillow suggested the lineup to me," Benitez said with a smile the following day. "It's very intelligent." Giandomenico Mesto would play instead of the injured Christian Maggio on the right of Napoli's back four, while Blerim Dzemaili looked fresher than Gokhan Inler, so Dzemaili would partner with Valon Behrami in midfield.
- Mario super, but errors cost average Milan
- Allegri irate at Balotelli red card
It might be said that Benitez could not have dreamed of a better night against Milan. But of course he could. He'd lived one. To many of those watching on Sunday, what came to mind was Istanbul, or an element of it at least. Sky Italia's presenter said to studio guest Billy Costacurta that the blackout Milan experienced in the opening six minutes of the first half of
Sunday's 2-1 defeat at San Siro
was the same as their blackout in the second half of the 2005 Champions League final against Benitez's Liverpool.
Milan were all over the place. First, Behrami was allowed to run from inside his own half straight through the middle, exchange a pass with Lorenzo Insigne, get the ball back, and find himself one-on-one with goalkeeper Christian Abbiati, only to volley a shot over the bar. Then Cristian Zapata gave the ball straight to Marek Hamsik. Released by his teammate on the edge of the area, Gonzalo Higuain dragged an effort just wide of the post.
Milan were doing the club's great tradition of defending yet another dishonour shortly afterward when they conceded from an all-too familiar scenario: a set piece. Jose Maria Callejon angled in a free kick, Raul Albiol peeled off to the far post and nodded the ball back across goal, where two Napoli players were all alone. If Miguel Britos missed the header, Hamsik was prepared to mess up his Mohawk. But he didn't have to. The net bulged.
"In these opening minutes [Napoli] seemed like Sacchi's Milan," wrote Gianni Mura in La Repubblica, a huge compliment for a disciple of his like Benitez. "They played from memory, at a very high rhythm."
One of football's paradoxes, though, is that sometimes teams need to fall behind before they start playing, and that was the case with Milan on Sunday night. "Apart from the first 10 minutes, it was the best game of the season for us," coach Max Allegri argued.
Before the game, he'd told Mario Balotelli that, in light of the fact he'd be playing in front of Napoli's president Aurelio De Laurentiis, a film producer, it was time he became a leading man, not a supporting actor. The nuance here was that, until now, the 23-year-old has never played a full season as a starter for a club. Can he play at a consistently high level three games a week? Not if he's suspended, he can't, which we'll get to in a moment.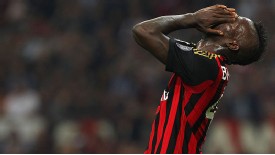 GettyImagesMario Balotelli missed a penalty and was sent off in Milan's defeat to Napoli.
In many respects, this encounter wasn't so much Milan versus Napoli as Balotelli versus Napoli. He worked Pepe Reina twice before halftime and, like the rest of his team, felt they deserved a penalty after Juan Camilo Zuniga bundled over Andrea Poli in the area. Balotelli would eventually get his chance from the spot, but not before Higuain had doubled Napoli's lead eight minutes after the interval when he received a throw-in, cut inside and then sneaked a shot that Abbiati really should have saved inside the near post.
Lamentably, there was no Decibel Bellini, the San Paolo stadium announcer, to call out "GON-ZA-LO" or a home crowd to respond "HI-GUA-IN" over and over again, as there had been in Napoli's 2-1 victory over Borussia Dortmund in the Champions League on Wednesday, but it was a great feeling for the No. 9, not least because it brought an historic triumph closer. With four goals in his last four games for his new club, Higuain has made supporters forget Edi Cavani in a hurry.
The game, however, wasn't yet beyond doubt. Held in a full nelson by Britos and clattered by Albiol inside the box, Balotelli was awarded a penalty. He'd never missed, scoring each and every one of his last 21. In addition to death and taxes, Balotelli converting from the spot had come to be considered as one of life's certainties. But Reina, who saved seven penalties from nine at Villarreal in the 2003-04 season, had done his homework.
For 20 minutes prior to Sunday's game, he sat down with Napoli goalkeeping coach Xavi Valero and analysed Balotelli's technique. They discovered a pattern. When Balotelli halts his run-up, he tends to go one side. When his run-up is fluid, he tends to go the other. The variable is whether the keeper moves or not before he kicks it. Reina didn't, instead staying concentrated on his line.
And so, from the tells he'd been told to look out for, he went right and made a save that left no one in any doubt that this was to be Napoli's night. Balotelli, though, wasn't done yet. He hit the bar with a wonderful hooked shot, forced Reina to tip another of his efforts over for a corner, and eventually pulled one back with a curler from outside the box that crept inside the post.
Perhaps feeling he should have had another penalty after Mesto went through the back of him, Balotelli lost his temper at full time, taking his shirt off and getting in referee Luca Banti's grill. Already booked, he was shown a red. The reaction in Monday's papers was measured. "Yes, we know he missed the pen and was sent off," wrote La Gazzetta dello Sport, "but the game against Napoli showed that without Balotelli this Milan would end up in the bottom half of the table."
With Stephan El Shaarawy injured and yet to replicate the sort of form he showed in the first half of last season, there's certainly some truth to that. Milan are only a point better off than at this stage a year ago and are already eight points adrift of the leaders, but it's early and with the run they went on from October to May in 2012-13 still fresh in the memory, judgment should be reserved.
As for Napoli, this was a night to savour. A week after finding themselves alone at the top of the table for the first time since the Diego Maradona era, and just days after overcoming a German team for the first time since the 1989 UEFA Cup final, they also beat Milan at San Siro for the first time since April 13, 1986. That's quite the trifecta. Coincidentally enough, the score on that day 27 years ago was also 2-1, a Maradona goal not too dissimilar to Higuain's separating the two sides.
Napoli has been matched stride for stride so far by Rudi Garcia's Roma, who notched their fourth win in a row with a victory in the derby against Lazio on Sunday afternoon, making this their best start to a campaign since 1960. The centre of power in Serie A, at least for now, has changed from the north to the
centro-sud
or centre-south.
Will the shift endure? That is the question. One imagines Juventus will have a thing or two to say about that. But a shuffle in the pack of contenders certainly captures the imagination. Curiously, this is also the first time in 44 years that teams coached by two foreign managers have led the way in Serie A at this stage of the season.
Benitez can sleep easy. Dreams of leading Napoli to a first
Scudetto
since 1990 must cross his mind. Who knows, it might be through more pillow talk over the course of the season that he comes to figure out how they can win it.