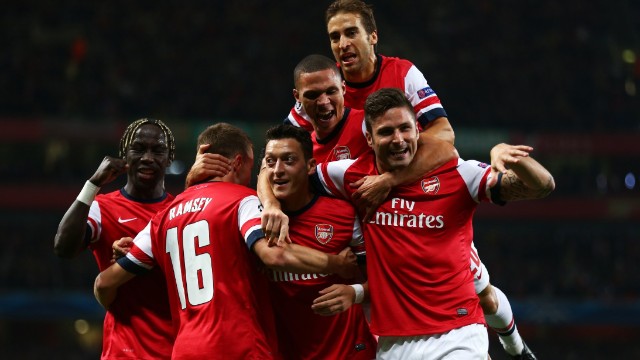 Arsene Wenger could scarcely have asked for a more enjoyable anniversary gift from his players after Arsenal produced a scintillating showing to see off Napoli in the Champions League.
Celebrating his 17th year in charge, Wenger watched on as the Gunners turned in one of the English club's finest European performances for some time to defeat the Serie A side 2-0.
Mesut Ozil, the German playmaker who arrived on deadline day from Real Madrid, was the man who ran the show.
Ozil's sublime opener and an Olivier Giroud strike secured a second straight Champions League win for Arsenal, which now sits three points clear at the top of Group F.
"Considering we were playing against a top side, we played very efficiently winning the ball back and it was a very impressive first 45 minutes," captain Mikael Arteta told Sky Sports.
"We have the talent up front to score the goals. But there is also a hunger. Now we know that we need to win the ball back quickly, because when we win it back in the final third we are very dangerous.
"We still have players to come back from injury and they will add their own qualities."
After its opening day defeat by Aston Villa which led to huge criticism of Wenger, Arsenal has been in imperious form.
And the Frenchman was delighted with his side's latest showing as it continued its winning streak.
"I felt that we played at a good pace, technically very direct and finished with great goals," he told Sky Sports.
"The first half was outstanding. The second half we played more with maturity, less with drive going forward, a bit more cautious, but overall and outstanding game.
"The first half was amazing, absolutely fantastic. Everything was in there. All that you dream to see when you come to watch football.
"We were solid. Flamini and Arteta contributed to that, and overall it was positive because I wanted Flamini to be very good on the counter attack, especially with Ramsey, and that worked very well."
Napoli coach Rafael Benitez had never managed to win at Arsenal during his time at Liverpool or Chelsea and that statistic rarely looked like changing.