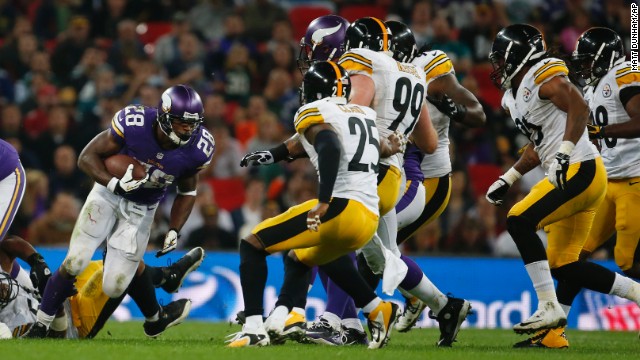 Viking raiders once landed on British soil to change the face of the nation -- and 1200 years later a group of muscly Minnesota Vikings gained further ground in the NFL's sporting invasion of the British Isles.
The victorious Vikings landed another blow for American football Sunday as the team staged an exciting 34-27 victory over the Pittsburgh Steelers in London.
The team's 28-year-old star running back Adrian Peterson and Greg Jennings scored two touchdowns apiece.
It was an important first win of the season for the Vikings but the entertaining game could have even greater significance for the NFL's hopes of establishing a European franchise.
A regular season game was first played in London in 2007 but, for the first time this season, two games were scheduled on the opposite side of the Atlantic.
Next month the Jackonsonville Jaguars face the San Francisco 49ers. Both NFL games at Wembley Stadium sold out within hours